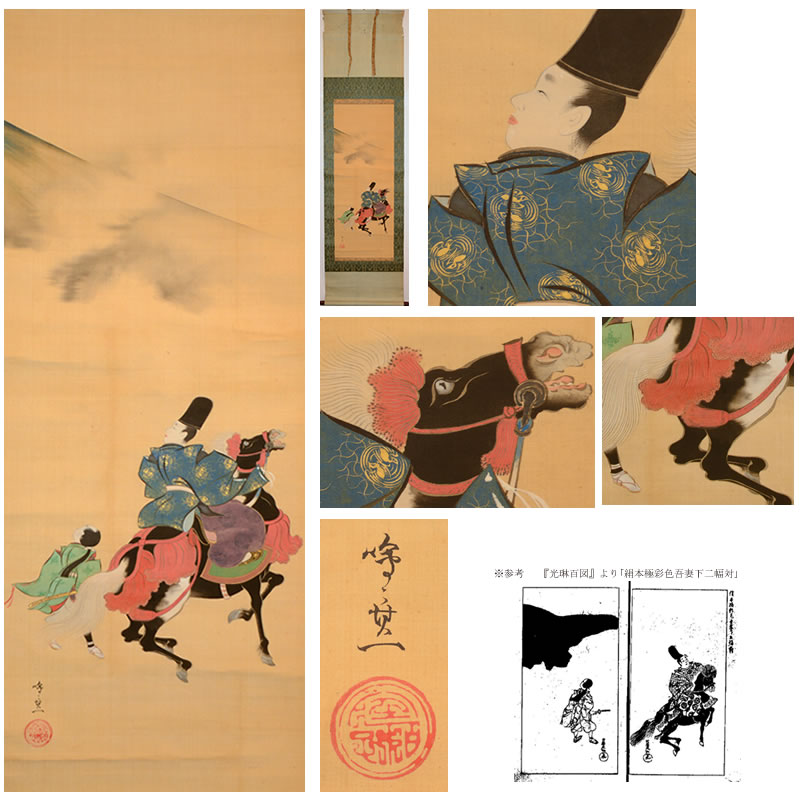 Artist

Suzuki Kiitsu (鈴木其一) [1796-1858]

Title

Azumakudari

Dimensions

90.0 x 34.7cm

With mounting

172.5 x 46.3cm

Method

color on silk

Remarks

*Sign: 噲ゝ其一
*Seal: 庭柏子

*Similar to the work (No. 57/188) listed in the pictorial record of the exhibiton "Suzuki Kiitsu" at Suntory museum of Art, Himeji City museum of Art and Hosomi museum.
*Scene of "Mt. Fuji" in Passage 9 "Azumakudari" of "Ise Monogatari".
This scene is often used as a subject by Rimpa School.
There are two similar scenes in "Korin Hyakuzu".
Comparing this painting to the pair of hanging scroll named "絹本極彩色吾妻下二幅対(a pair of Azumakudari full color on silk)",
the pattern of clothes of Narihira and an attendant are exactly the same.
Sakai Houitsu (Kiitsu's master, 1761-1829) and Suzuki Shuitsu (Kiitsu's son, 1796-1858) painted the same scene.