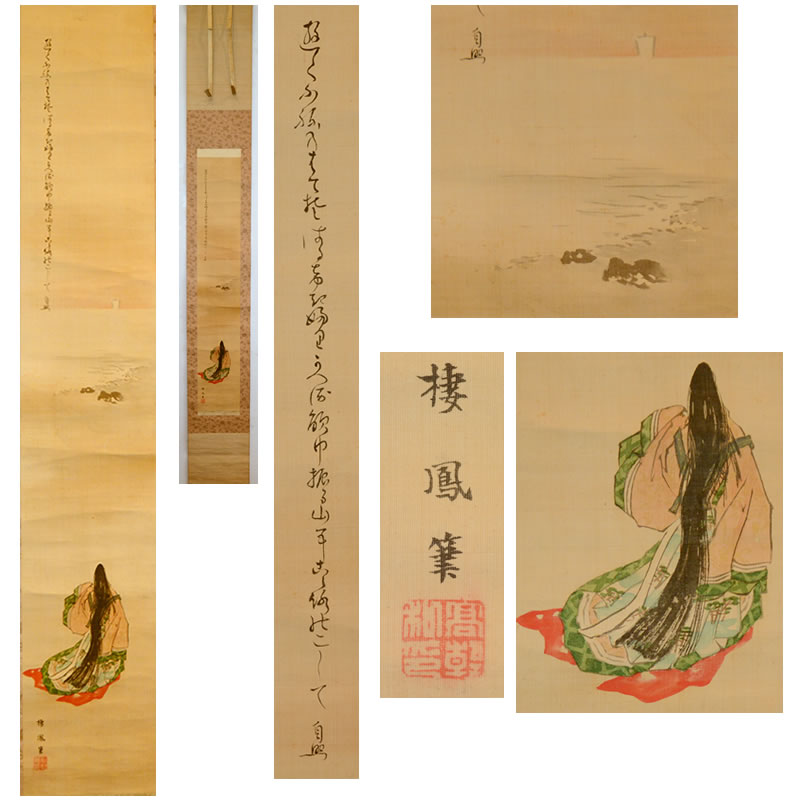 Artist

Takeuchi Seiho

Title

Matsurasayo hime

Dimensions

97.4 x 16.5cm

With mounting

197.8 x 24.5cm

Method

color on silk

Dated

around 1988-1989

Remarks

*Sign: "棲鳳筆" on the lower left
*Seal: "高幹私印" on the lower left
*Poem: "遊くふ弥乃 者て楚はる希記 婦里可へ流 領巾振る山耳
  古ゝ路能こして" (行く舟の 果てぞ遥けき 振り返る 領巾(ひれ)振る山に 心残して)
*Sign: 自照

*自照…Hayakawa Jisho(早川 自照)?
*Matsurasayo hime (松浦佐用姫/まつらさよひめ) is a daughter of a powerful family who is said to have lived in current Kyuragi-cho in Karatsu.
Tradition says that in 537 to go to the front of Silla, Otomono Sadehiko 大伴狭手彦(おおとものさでひこ) came to this place where he fell in love with Matsurasayo hime.
The day when he departed for the front, Matsurasayo hime saw him off from the top of Kagamiyama, waving her stall.